Don't miss the chance to win a $500 scholarship or a $250 honorable mention in our annual Scholarship Contest. Entry forms are available at branches, or you can
download and print one here.
Deadline is Wednesday, September 30, 2015.
Continue reading
Come learn about the factors that commonly affect the psychology of spending at our free upcoming workshop on Tuesday, August 11, from 6 to 7:30 p.m. The workshop is at the TFCU Tulsa Branch Community Room, 8920 E. 61st. St.
Continue reading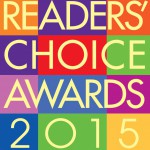 During May and June, The Oklahoman held its 22nd annual Readers' Choice competition. Thank you for making your vote count. TFCU is honored to have been voted "Best Credit Union" in the 2015 Readers' Choice Awards.
Continue reading
Save-A-Tron 5000 will visit some of our branches during our annual SaveAbles Back-to-School celebration. Each SaveAbles member can bring the coupon from the Summer SaveAbles newsletter to any TFCU branch during business hours July 18 through August 1 to receive your free backpack. Children who are not SaveAbles members also have the opportunity to get a free backpack at the following branches during the times listed for Save-A-Tron's visit. • Tuesday, July 21, 1 p.m. – 3 p.m. at Tulsa (E. 61st St.) • Tuesday, July 21, 2 p.m. – 5 p.m. at Southwest • Wednesday, July 22, 10 a.m. – 11:30 a.m. at Moore
Continue reading