As a "thank you" to our members, TFCU will have a Member Appreciation Day on Sunday, September 13, from 11:00 a.m. to 8:00 p.m. at Frontier City amusement park located at 11501 N. I 35 Service Road, Oklahoma City. Stop by any of our branches, except Crooked Oak and John Marshall branches,
beginning August 13
, to purchase a $10 ticket* to this event (while supplies last).
Continue reading
Don't miss the chance to win a $500 scholarship or a $250 honorable mention in our annual Scholarship Contest. Entry forms are available at branches, or you can
download and print one here.
Deadline is Wednesday, September 30, 2015.
Continue reading
Come learn about the factors that commonly affect the psychology of spending at our free upcoming workshop on Tuesday, August 11, from 6 to 7:30 p.m. The workshop is at the TFCU Tulsa Branch Community Room, 8920 E. 61st. St.
Continue reading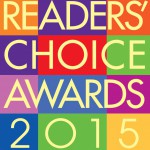 During May and June, The Oklahoman held its 22nd annual Readers' Choice competition. Thank you for making your vote count. TFCU is honored to have been voted "Best Credit Union" in the 2015 Readers' Choice Awards.
Continue reading