As competition continues to rise, more and more consumers are seeking out their local credit union for most of their financial needs. Just last year, membership for credit unions reached an all time high of 100 million, according to the Credit Union National Association. Here are a few good reasons why credit unions are a popular choice for a financial institution.
Continue reading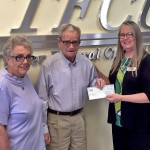 Larry Mills was thrilled to find out his mortgage payment was being reimbursed as part of TFCU's Give Back program. He was one of 127 Give Back winners in the month of March. Larry and his wife, Janice, joined TFCU a little over three years ago after talking to their son, who has been a long-time member of the credit union.
Continue reading
U.S. Office of Personnel Management (OPM) has announced a cybersecurity incident affecting its systems and data that may have compromised the personal information of current and former Federal employees.
Continue reading
Get a rate as low as 2.99% APR* on your TFCU auto loan and no payments for 90 days on new, used, and refinanced vehicles. Plus, up to 100% fixed rate financing. Great financing also available on boats, motorcycles, RVs, and even jet-skis!
Continue reading