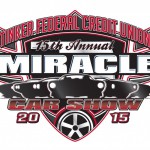 TFCU's 15th Annual Miracle Car Show will be held Saturday, April 25, at the credit union's operations center located at 4140 W. I-40. The event starts at 9:00 a.m. and goes until 3:00 p.m. All proceeds from this popular event benefit Children's Miracle Network Hospitals.
Continue reading
Are you shopping for a car or truck? Well, we know that is no simple matter so we want to help you avoid buyer's remorse by making important financial decisions before signing on the dotted line. TFCU will be hosting a free workshop on Thursday, March 19, from 6-7:30 p.m. in the Tulsa Branch Community Room (8920 E. 61st St., Tulsa, OK 74133). Snacks will be provided. Please sign up at the Tulsa branch (8920 E. 61st St.) or email Bailey at brooksb@tinkerfcu.org.
Continue reading
Certain payees, such as tax entities, are not included in the BillPay options on Home Branch because those payments cannot be guaranteed. Please do not schedule a tax payment through the Home Branch system. We would not want you to experience the inconvenience of the payment being rejected.
Continue reading
Scam artists are becoming more and more creative in the techniques they use. A common technique used in today's digital society is a phishing scam. "Phishing" is the attempt to acquire sensitive information from consumers by masquerading as a trustworthy entity in an electronic communication. This information includes credit card numbers, account PINs and passwords.
Continue reading