SaveAbles Accounts for Kids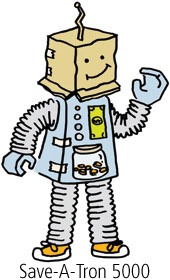 Join the SaveAbles Kids Club and get free gifts for
every deposit!
TFCU SaveAbles Kids Club accounts are special accounts that can be opened for children, grandchildren, nieces and nephews. Any child who is a relative of a current member or of someone who qualifies to join TFCU can become a SaveAbles Kids Club member.
Every time you bring in a deposit, you get a cool gift — and it's FREE!
Visit www.TheSaveAbles.com for cool games and information about Save-A-Tron 5000 and The SaveAbles.