Join the SaveAbles Kids Club and get free gifts for every deposit!
TFCU SaveAbles Kids Club accounts are special accounts designed to teach kids the importance of saving. They can be opened for children, grandchildren, nieces and nephews. Any child who is a relative of a current member or of someone who qualifies to join TFCU can become a SaveAbles Kids Club member.
SaveAbles Kids Club members will get an official ID card, a gift for opening an account, a quarterly newsletter, birthday card and so much more. And, every time they bring in a deposit, they get a cool gift — and it's FREE!
Save-A-Tron 5000, along with his friends, are always here to encourage kids to save. And together they are the SaveAbles!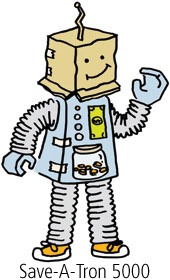 Penny: She's got a head for numbers.

Piggy: She likes to shake things up.

Boxy: He keeps stuff (and your secrets) safe.

They even have a secret SaveAbles chant:
Find a penny, pick it up.
All day long you'll have good luck.
Find a bauble, bit, or string.
Make it in to anything.
Save it in a jar.
Save it in a box.
Put it in your piggy bank.
Saving really rocks.
SHAKE IT! SHAKE IT!
D-O-O-O-O-N-T BREAK IT!