If you're not a cash carrier, but want the flexibility of cash, TFCU is now offering a great solution – VISA Reloadable Cards. VISA Reloadable Cards offer the flexibility of cash, and the security of a debit card.
As a TFCU member, you can purchase a VISA Reloadable Card, and load any amount between $20 and $3,000 from your TFCU account to the card. VISA Reloadable Cards can be used for purchases at most merchants where VISA debit is accepted. Once you spend the funds on the VISA Reloadable Card, the card can be reloaded with funds from your TFCU account. You can also order secondary cards that draw from the same funds as your primary VISA Reloadable Card.
Please call 1-866-760-3156 if you have questions regarding your reloadable card.
VISA Reloadable Cards are convenient for:
Students
Use a VISA Reloadable Card during the school semester. Parents can provide their student with a secondary card, and utilize an allowance feature that will help prevent overspending.
Travel
Stick to your travel budget by loading funds to your VISA Reloadable Card and using the card on your vacation.
General Spending
Your VISA Reloadable Card can be replaced if it is lost or stolen. So regardless of why you are using your card, the VISA Reloadable Card offers security as well as convenience.
Terms and fees apply. For more information, visit VISA Reloadable Terms and Conditions, Reloadable VISA General Disclosure, Frequently Asked Questions (Reloadable/International Card) and Frequently Asked Questions (Student, Travel and General Cards).
---
Purchase a general spending VISA Reloadable Card in any TFCU full-service branch, or visit the reloadable card website for more information. You can also view your VISA Reloadable Card balance and other account-related information by going to My Account.
Reloadable Card (International)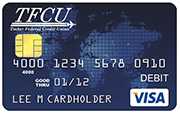 Existing cardholders may reload the cards listed below; however, new cards are not available to order.