Transfer High-Interest Balances to a TFCU Credit Card and Save
Save Big. Transfer Your Balances. Simplify Your Life.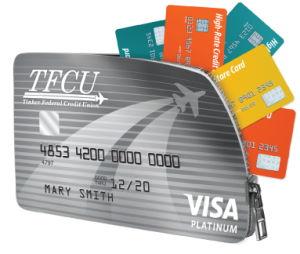 Stop carrying around those high-rate credit cards. Transfer those balances to our Visa Platinum to take advantage of our special introductory rate of 4.99%* APR.
One of the first things many financial planners recommend to help you gain better control of your finances is to start making more than the minimum payments on your high-interest credit card balances so you can pay them off as quickly as possible. For immediate relief, you can move your balances from those high-interest cards to a TFCU Visa Platinum credit card. There's no balance transfer fee and you can begin to whittle down your debt faster, since the lower interest rate allows you to pay more on the balance. You save money. We make it easy.
Print and fill out our Credit Card Balance Transfer Form and start paying less on interest and more toward your balance.
*The balance transfer introductory rate of 4.99% Annual Percentage Rate (APR) is applicable for 12 months from the day each qualifying balance transfer is applied to your account. After the 12-month introductory period, the rate will adjust to the current variable VISA Platinum APR which is set by your credit rating at the time of account opening and may change at any time. The APR will vary based on movements in the Prime Rate, published in The Wall Street Journal on the 25th calendar day prior to the beginning of the calendar quarter. The new rate will not become effective until after the end of the current billing cycle in which movement of the Prime Rate dictates a change to the APR currently in effect. As of January 1, 2018, the APR range for this product is 9.75% to 11.75%. The maximum APR that can apply is 18.00%. Transfers must be posted to the account by February 28, 2018, in order to qualify for the introductory rate. Balance transfers are applied to the account as a cash advance (no fee imposed for cash advances), subject to the terms of the VISA Platinum Cardholder Agreement and Disclosure Statement. Interest will start accruing on the balance transfer transaction date. To take advantage of this offer, Tinker Federal Credit Union (TFCU) membership is required, which involves opening an initial share (savings) account with a $5 deposit, and qualifying for a VISA Platinum card account. Visit any TFCU branch or go to TinkerFCU.org for more details.