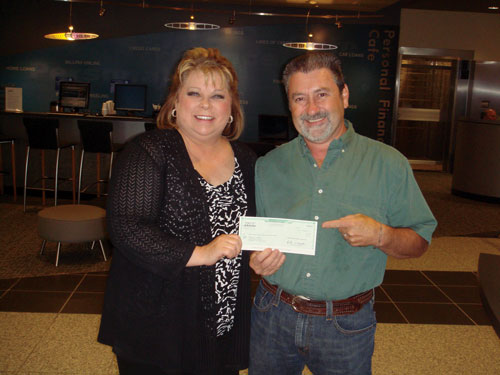 TFCU Give Back Winner Gets Anniversary Day Surprise
"Now, you're not pulling my leg, are you?" TFCU member Donald Lachance (pictured with Shawnee branch supervisor, Terri Straughan) was excited, but cautious, when he heard TFCU was reimbursing his mortgage payment from the previous month. Donald's payment was randomly selected to be reimbursed as part of the credit union's Give Back program.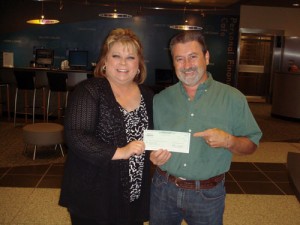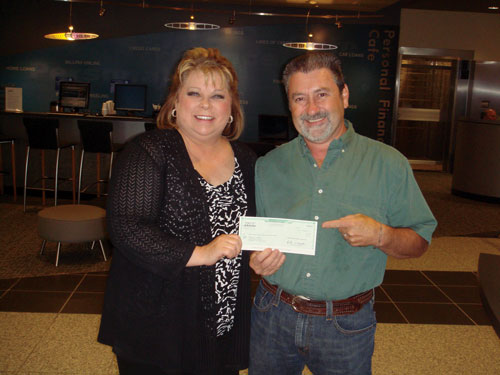 "This blows my mind!" he said. "Today's my anniversary, and you just made my day. I've never won anything in my life before."
Donald was even more excited to hear he could win again, now that he's feeling lucky. Simply using the services you love, such as receiving your paycheck through Direct Deposit or making a loan, mortgage or credit card payment, makes you eligible to be a winner, too.
The Give Back program rewards members for services they use every day. Each day three MoneyPlus transactions are reimbursed up to $100. Every month, ten BillPay payments are reimbursed up to $500, ten active Home Branch users receive a $100 Best Buy gift card, one direct deposit is matched up to $2,000, one loan payment is reimbursed up to $1,000, one mortgage payment is reimbursed up to $1,000, and one credit card payment is reimbursed up to $1,000. These are only a few of the ways TFCU gives back to our members.