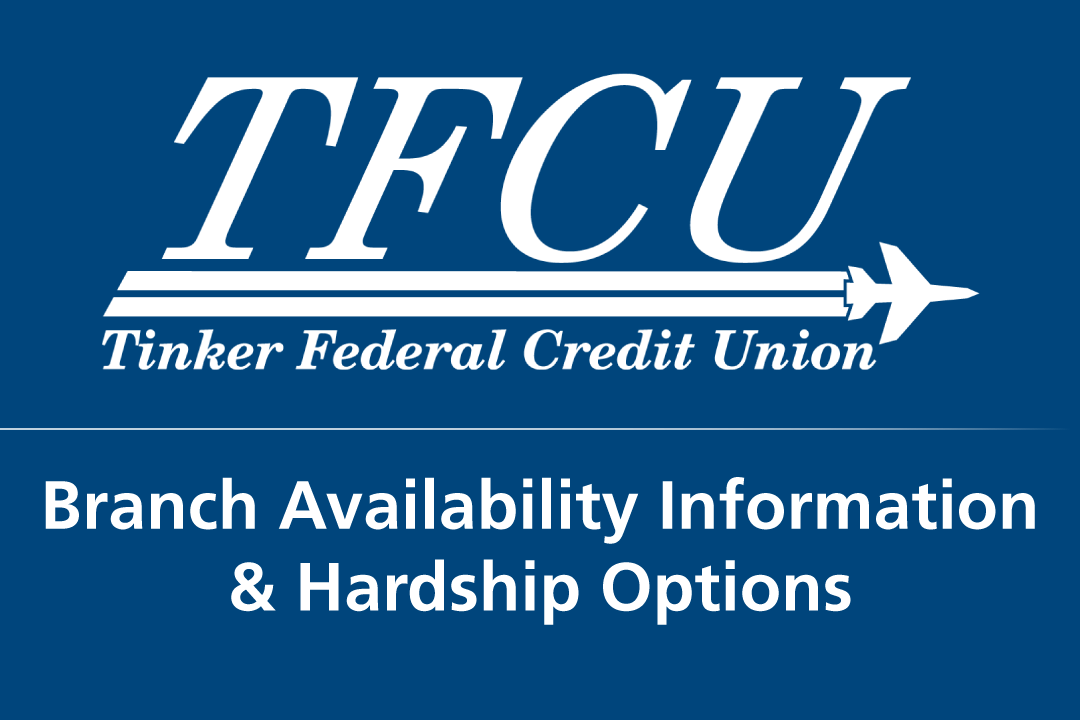 TFCU Changes Branch Access and Offers Hardship Options
We know the COVID-19 situation is stressful for many of our members. TFCU is here to help by providing special hardship programs and access to services that may put your mind – and your wallet – at ease.
Branch Access Changes
Our members and employees are our primary concern during this difficult time. Please note the following branch changes:
Beginning Monday, March 23, 2020, lobby access will be available by appointment only, Monday through Friday
Beginning Saturday, March 21, 2020, all branches will be completely closed on Saturdays
Our coin counters will be unavailable during this time
We strongly suggest our members practice social distancing and take advantage of our extended drive-thru hours
Our Member Service Center hours will remain the same:
Monday through Friday 6:00 a.m. to 9:00 p.m. and Saturday 8:00 a.m. to 5:00 p.m. by phone at (405) 732-0324 or through live chat at TinkerFCU.org.
Hardship Options
The following options may be available to those who have been impacted:
Skip-A-Payment Fee Waivers: We may be able to waive fees on eligible loans
Loan Payments: Interest-only payments on eligible loans
Hardship Loans: Special low-interest loans
Fee Waivers: We may be able to waive fees for payments made online or by phone
Share Certificates: We may be able to waive early withdrawal penalties
Enhanced Services
The following extended service options are available to all members. Please talk to a TFCU representative to determine a plan that fits your situation.
Senior Hour: Special branch lobby appointments from 8:00 a.m. to 9:00 a.m. for members age 60 or older only. Seniors are also welcome to make a general membership appointment available to everyone from 9:00 a.m. to 5:00 p.m. Click here to make an appointment
Debit Cards: New and replacement debit cards available in the drive-thru
CUSC: Extended Credit Union Service Center options through the drive-thru
Extended Drive-Thru Hours: The drive-thru will be open 7:00 a.m. to 6:00 p.m., Monday through Friday
Waiving limits on electronic funds transfers, upon request
In the interest of social distancing, you may also want to take advantage of these services:
Up to $1,000 daily withdrawal allowance at ATMs
Online banking
Home Branch Mobile App
Mobile check deposit
Appointment scheduling at TinkerFCU.org and by phone
Night deposit
TFCU continues to actively monitor the Centers for Disease Control (CDC) Novel Coronavirus/COVID-19, and we are following the CDC guidelines to appropriately respond to this public health threat.
Thank you for continuing to trust TFCU for your financial services.