Telephone Alert — Don't Get Scammed By Text Phishing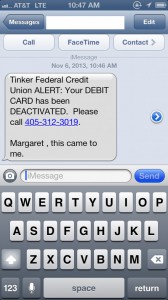 Here is a new twist on the old phishing scam. Now, individuals are receiving telephone text messages alerting them that their debit card has been deactivated. with instructions to call a certain phone number to get their account opened again. Unless you have signed up for this type of service with a financial institution, you can be pretty certain such a text message is a phishing scam. A positive indication of a scam would be if you are contacted in any manner and instructed to contact a financial institution regarding your account and you do not have an account or any other form of relationship with that institution.
While TFCU now offers members the option of receiving alerts and notices by text messages, we will never ask for personal information that we already have in our files. If you ever get a message that makes you uncomfortable, please call us at (405) 732-0324 or toll free at 1-800-456-4828.