EMV Chip Technology Now in TFCU MoneyPlus Cards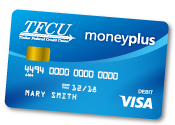 In addition to TFCU's credit and reloadable cards, the MoneyPlus debit card now comes equipped with EMV micro-computer chip technology. And in the next 2 to 10 week, all existing TFCU MoneyPlus card holders in good standing will receive a new EMV chip card.
Enhanced Security
Originating in Europe, EMV stands for Europay, MasterCard® and Visa® and is currently one of the most effective ways to prevent credit card fraud. Every time you use an EMV card at a chip-enabled terminal as a chip transaction, the embedded chip generates a unique code for each transaction that allows only authorized users to access your information. This prevents fraudsters from "skimming" or copying your card information.
Use It Anywhere
In addition to enhanced security, EMV chip cards are accepted at millions of chip-enabled terminals worldwide. This technology is currently supported in 80 countries, including Canada, countries in Europe, Latin America and Asia. And since not all retailers have chip-enabled terminals, each chip card still features a magnetic strip, giving you the freedom to make purchases anywhere that accepts Visa or MasterCard.
Card Activation
To activate your new EMV MoneyPlus debit card, visit an ATM and make a withdrawal or balance inquiry, using your existing PIN. Be sure to destroy your previous TFCU MoneyPlus debit card, which will cease to work once your new card has been activated. All TFCU magstripe only cards not closed through EMV card activation will cease to work after April 10, 2016.
Your PIN will remain the same; however, you have the option to select a new PIN for the MoneyPlus EMV debit card by visiting your nearest TFCU branch or by calling toll free 1-800-448-8268.
Apple Pay and EMV
If you previously programmed your MoneyPlus debit card to work with Apple Pay, you will need to delete your previous card from your phone and re-load the new card in order to continue using Apple Pay.
Questions?
For more information about EMV chip cards, visit our FAQ page or call 1-800-456-4828.
Paying at a Chip-enabled Terminal is Easy as 1-2-3
1. Insert the chip end of your card
into the terminal with the chip facing up.
2. Keep your card in the terminal
and follow the prompts on screen.
3. Remove your card when
prompted and take your receipt.
Keep in mind you may need to sign for your purchase.