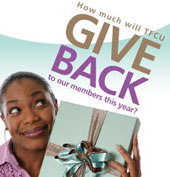 It's the Year of Give Back at TFCU; You Could Be a Winner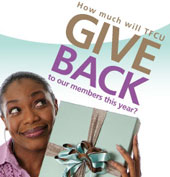 If you get a call from a TFCU representative telling you that you've won one of the larger prizes in our Give Back Rewardsprogram, DON'T HANG UP! It's not a scam and we're not trying to get you to buy anything. It's just our way of showing appreciation to our members this year for your loyalty. Thanks to you, TFCU is as strong and sound as it has ever been.
We are giving away rewards every month. You are automatically entered to win all sorts of rewards for using the TFCU products and services you use every day. Plus, you can enter to win drawings for special prizes at various branches throughout the year.
These are exciting times at TFCU. For full details about our Give Back Rewards, call us, visit any branch or click here.