Home Branch Mobile
Enroll your Mobile Device
Step 1
To use TFCU Home Branch Mobile you MUST:
Be a TFCU member and know your User ID.
Be enrolled in Home Branch with a current, valid e-mail in the Home Branch system. To locate the e-Mail address you have in Home Branch, login to Home Branch. Click here to see an example.
Step 2
Using your mobile device's Internet access capability access the following web page: http://m.tinkerfcu.org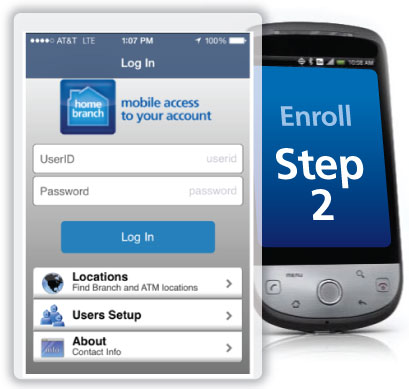 Step 3
Login using your User ID and Home Branch Password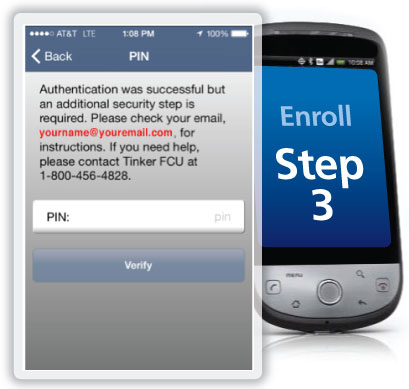 Step 4
Home Branch Mobile will send an e-mail to you with a one-time PIN number. Check your e-mail at the e-mail address you have registered within Home Branch.
Open and read the e-mail* you should have received from TFCU:


—–Original Message—–




From: memberservices@tinkerfcu.org




Sent: Monday, March 2, 2015 6:09 PM




To: Your Name




Dear Your Name,

To complete the enrollment of your device in Home Branch Mobile:

Please log in again and you will be prompted to enter your One Time PIN Below:

XXXX

This one-time PIN will be valid until: Thursday, February 26, 2015 2:55:25 AM Central Standard Time

Once your mobile device is enrolled you will not need to use the ONE-TIME PIN again.

You have currently registered 1 of the 12 devices allowed on this account. Need more? Call Member Services at 1-800-456-4828.

                                                              

* spam filters may block the PIN e-mail we try to send you. If you do not receive your PIN e-mail, please check your spam folder or adjust your spam filter settings.

Make note of the ONE TIME PIN included in the message for use in the next step.
Step 5
Use the ONE-TIME PIN just received to access your account:
From your mobile device, access Home Branch again. You will then be prompted for your PIN that was given in the email. Enter it in the blank.
You will now see the Accounts page (see below)
Your mobile device is now enrolled. You will NOT need to use the ONE-TIME PIN any longer.
You may want to SAVE this link in the Internet browser of your mobile device for quick, easy access.