Employment
If you think Tinker Federal Credit Union is a great place to conduct your financial business, just wait until you work here. Whether you're looking for part-time employment while finishing school or a full-time career, the Tinker Federal Credit Union team may be the perfect fit for you. Open positions are posted regularly and our online application makes the process fast and easy.
Check out a summary of the benefits of joining the TFCU team.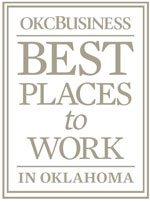 TFCU Named the Best Place to Work in Oklahoma
TFCU is a great place for your financial needs, but it is also a great place to work. TFCU was voted the Best Large Place to work in Oklahoma by OKCBiz magazine. TFCU leadership cares for our employees just as our employees care for TFCU members.
Equal Opportunity Employer, M/F/D/V