Employment
Our team members make us who we are by being who they are. They have a passion for not only helping our members, but each other as well. The TFCU team is the secret to our continued member satisfaction and has made us one of the Top Workplaces in Oklahoma in 2013 (as voted by the Oklahoman). Our goal is to continue our success by recruiting and employing those who truly have a desire to connect with our membership, find solutions, and help others.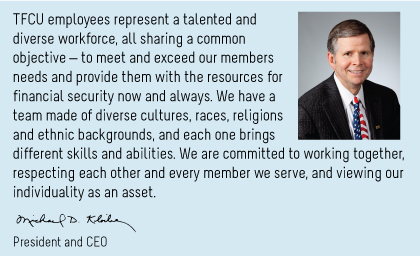 TFCU's Service Culture
Service solutions is a culture where providing superior, value-added service to both internal and external members is expected, appreciated, and considered a normal way of life for everyone at TFCU. Our team members uphold service promises in all interactions to provide superior service. We place service above self and members above profits.
Professional/Career Development
TFCU University
New employee orientation and job training at TFCU happens through our TFCU University. New employees attend classes and are trained on the job to learn all the needed job skills and knowledge. Once you complete your University Development Plan, you are well on your way to a successful future with TFCU!
Higher Education Reimbursement Program
At TFCU we believe that higher education is critical to an employee's success. Once employees have been employed with TFCU for one continuous year, they are eligible to receive the education benefits found in our Higher Education Reimbursement Program. TFCU will reimburse many educational expenses you have as you complete an Associate, Bachelor's, Master's or Doctorate degree at accredited colleges and universities. Expenses can include tuition, books, and some fees or additional expenses. A great benefit for our great employees!
Leadership Education Achievements and Development (LEAD) program
TFCU is always looking for great leaders! The goal of the LEAD Program is to develop tenured and high-performing TFCU employees into leaders for our future. Participants in the LEAD Program learn the credit union knowledge, skills and management experiences needed to prepare them for entry-level leadership roles within TFCU. Through job rotations, projects and additional training, program participants will learn to lead TFCU employees.
CUNA Management School
TFCU is a leader in the Credit Union Movement. We help promising employees learn and network with other credit unions through CUNA Management School. This intensive program is an important step for TFCU leaders who want to enrich their career with a more advanced understanding of Credit Union management functions. They will learn techniques for solving the unique problems and challenges facing credit unions and share common experiences and concerns with leaders in the credit union movement. TFCU believes in the motto of the Credit Union Movement – People Helping People!

Equal Opportunity Employer, Minority/Female/Disability/Veteran