The Team at TFCU Financial Advisors Celebrates 30 Years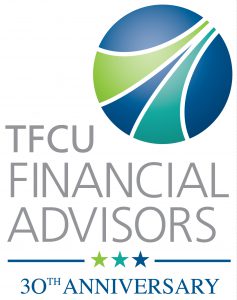 Thirty years ago, times were different. In 1986, Top Gun was the blockbuster movie, The Cosby Show was a hit and Americans grieved over the Space Challenger disaster. The economy was different too; gas was $0.89 per gallon and a first class stamp was less than a quarter. At year's end, the Federal Reserve interest rate was 7.50% and the Dow Jones Industrial Average closed at 1895.
One thing that hasn't changed, since 1986, is Tinker Federal Credit Union's mission to help each member achieve their goals and realize their dreams. TFCU understood the need to help the membership with their evolving investments and insurance needs. From there, TFCU Financial Advisors originated. Throughout the years, the knowledgeable and experienced TFCU Financial Advisors staff ensures our members have access to personal financial planning and objective financial guidance, with product selection based on their needs.
The economy is continually evolving as time goes on, which means having the proper financial tools and expertise is crucial for your financial plan. Call our team today, (405) 737-0006, to schedule a no cost, no obligation appointment with one of our licensed financial advisors.
Securities are offered through Raymond James Financial Services, Inc., Member FINRA/SIPC, an independent broker/dealer, and are not insured by the NCUA, not federally insured by any other government agency, are not deposits or obligations of the credit union, are not guaranteed by the credit union or any affiliated entity, and are subject to risk, including possible loss of principal. Tinker Federal Credit Union and TFCU Financial Advisors are independent of Raymond James Financial Services, Inc.